SOLO EXHIBITIONS
Softly Swaying, The Swiss Church, London
The Algorithmic Pedestal, in collaboration with researcher Laura Herman, J/M Gallery, London
Habitat Series, muf architecture/art (among other, informal locations), London
Hits and Misses (from the archive), Talbot Rice Gallery, Edinburgh
I Need, Trust Me, Help Me, La Balsa Arte, Bogotá, Colombia
Replica Sentiments, French Riviera, London

SELECTED GROUP EXHIBITIONS
Territories of Waste, Tinguely Museum, Basel
MK Calling, MK Gallery, Milton Keynes
Mother Mercury, Art Night, London
Watery, Fluid, Cloud Cuckoo Land, London
Entre Amis, French Riviera, London
Entre Nos, La Balsa Arte, Medellín, Colombia
Between Poles and Tides, Talbot Rice Gallery, Edinburgh

Alienamientos, La Balsa Arte, Bogotá, Colombia
Latent Surfaces, Like A Little Disaster, Polignano a Mare
TenderPixels.CorruptedFiles, Birch Contemporary, Toronto
Inner Landscapes of Time, Upstream Gallery, Amsterdam
Grand Magasin Deux, French Riviera, London
The C(h)roma Show, Croma Store, Bangalore, India
DAK'ART, Dakar Biennale for Contemporary Art, Dakar
Riff/t, Baltic Center of Contemporary Art, Newcastle Upon Tyne
Open Day, Lugar a Dudas, Cali, Colombia
Excerpts from the Bastard Series, XVIIX.com, online

Grand Magasin, French Riviera, London
Jungkunst, Halle 52, Winterthur, Switzerland
We are Here, SPACE, London
The Show House, 9a and 11 Lever Street, London
Off Sight, British Film Institute, London
RCA Degree Show, Royal College of Art, London
Paradise, Salone Internzionale del Mobile, Milan

SELECTED SCREENINGS / TALKS
How to Look at Image Collections? (Artist Talk), Oxford Internet Institute, online
Collaboration and Connection, Artangel, online
VIIDEO, Evelyn Yard, London
LUX looking, mediated (touring programme); OUTPOST, Norwich and Objectif Vidéo, Nice, France
Artist Talk, Talbot Rice Gallery, Edinburgh
Blackbox Festival, Seattle
LUX looking mediated (touring programme); Talbot Rice Gallery, Edinburgh, Quays Culture's Mobile Cinema, Salford, Art Licks Weekend, London and Arnolfini, Bristol
Open Data Ecologies, Delfina Foundation, London
RIFF/T Closing, Baltic Center of Contemporary Art, Newcastle
The Digital Subconscious, SPACE, London
Sturtevant Study Day, Serpentine Galleries, London

PUBLICATIONS / REVIEWS
The Digial Human, BBC podcast and review The Algorithmic Pedestal
Wallpaper, review The Algorithmic Pedestal
Artnet News, review The Algorithmic Pedestal
Surface Magazine, review The Algorithmic Pedestal
Apollo Magazine, review The Algorithmic Pedestal
Forbes, review The Algorithmic Pedestal
New Scientist, review The Algorithmic Pedestal
Kunstart, Vermüllung des Planeten review Territories of Waste

Kunstmarkt.com, Aus den Auguen aus dem Sinn? review Territories of Waste

The Herald, review Between Poles and Tides
Common Editions, artist book Zebras, Blanks and Blobs
Artoronto, review TenderPixels.CorruptedFiles
Limn Magazine, The Total Archive, portfolio feature, issue 6
This is Tomorrow, review Hits and Misses
The Independent, Young Female Artists are leading the Pack, review Hits and Misses
A–N (The Artists Information company), review Hits and Misses
Red Hook Journal, Everything is Moving, review Bastard Series
BOMB Magazine, Trust me, portfolio feature
This is tomorrow, review LUX Looking Mediated
The Modern Painter, review Replica Sentiments, September issue
AQNB, review Replica Sentiments
Dazed Digital, review Replica Sentiments
Wax Magazine, Things, Not Water, portfolio feature, issue 5
The Creator Project/Vice, Artist Turns E-Waste Into Colorful Fabric, portfolio feature
Wallpaper, The Graduate Directory, portfolio feature, January issue
Gestalten, Culture Identities, portfolio feature

étapes magazine, Spécial diplôme, portfolio feature, issue 209
Royal College of Art, Useless; New Writing in Art and Design, portfolio feature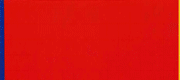 COMMISSIONS
Circle Signals, BBC Broadcasting House London, commissioned by the BBC
Zebras Blanks and Blobs (Windows), Argyle House Edinburgh, commissioned by the University of Edinburgh
The Least Important, commissioned by LUX Artist Moving Image
Collective Vomit, commissioned Baltic Centre for Contemporary Art

RESIDENCIES
Lugar a Dudas, Cali, Colombia. Funded by the British Council and Arts Council England
SPACE, London. Funded by Arts Council England and Bloomberg
PRIZES/GRANTS
Artangel, Thinking Time. Supported by the Freelands Foundation. With thanks to the Artists for Artangel Fund and Guardian Angels
MK Gallery, Judges Award for work Gap Patricles
TEACHING
Associate Lecturer at London College of Fashion, London College of Communication and Central Saint Martins.
SCHOOLS
Master of Arts, Royal College of Art, London
Diploma in graphic design, Berufsschule für Gestaltung, Zürich

Image archives (Bastards): Spectrum IV; Twin; International Klein Blue; Olympia; Who's Afraid of Red, Yellow and Blue III; Impression, Sunrise; Black Square.
This website has been built with the help of Daniel Rothschild using jekyll.